Andrew Pegler Media (APM) has designed 180+ annual reports for state and federal governments, local councils, and leading companies across Australia and Asia.
Our annual report design clients included Equip Super, Catholic Super, NSW Aboriginal Land Council, Geoscape Australia, Emergency Management Victoria, Closing the Gap Report and the Museum of Australian Democracy. As our many repeat clients will confirm, we bring best practice to this unique corporate communication.
Our style of annual report design never says, 'Look at me.' It says, 'Look at this'. The design elements on every page have a clear purpose – to inform and engage. Our crisp, well-defined, visually-appealing annual reports artfully meld design, typography and colour with images and graphic elements to reinforce your brand and build collateral for your 'social licence'. We can also animate your results and statistics with easily-digestible infographics, charts, tables and icons.
Your APM-designed annual report will:
Accurately represent your organisation
Intelligently combine authority, emotion and reason
Be on-brand and on-message
Be professionally project managed using our well-tested project management methodology
Be accessible
Have at least two cover page and layout options
Contain well-produced video/animation and infographics, if required
We can also help you with:
Selecting and sourcing imagery
Creating visual style guides
Developing your visual theme
Organising printing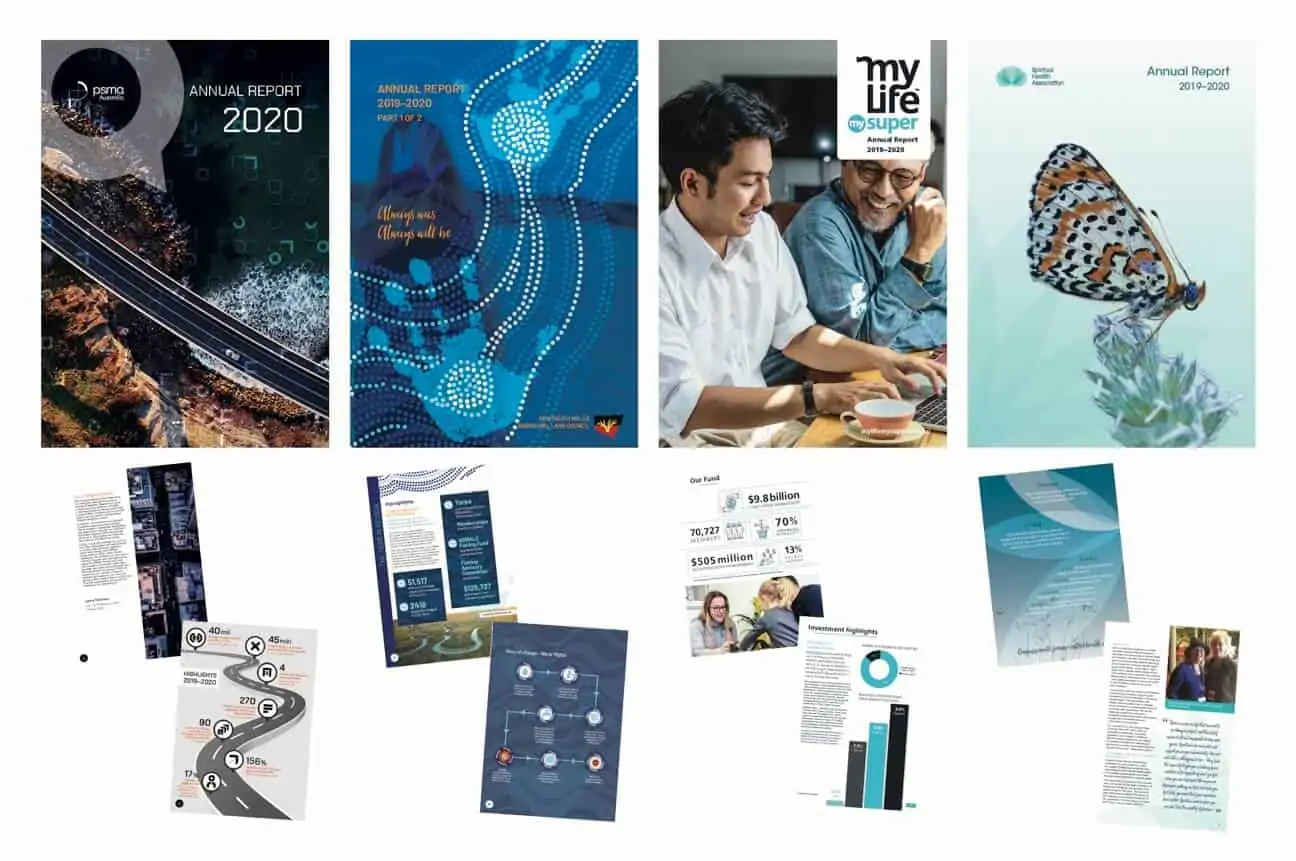 How we'll project manage your annual report design
Our first meeting will establish your needs, and a timeline for delivering everything you need and the agreed dates.
We'll identify who's responsible for what and when. APM's rigorous project management methodology keeps the project on schedule. We're always asking, 'Where are we against where we should be?' We'll track timeframes and deliverables, and identify which tasks can be done concurrently and which sequentially. And we'll stay as flexible as you need us to be, because the only constant in life is change.
So, if you're managing your annual report design this year, get in touch today. Or review some of our recent work.
In the meantime, check out our blog, The 6 essentials of annual report design.
Did you know we also write annual reports?
We've written 180+ annual reports. Our high-quality annual report writing services create best-practice outcomes for all our clients across Australia and Asia. Our plain English copy is easy-to-read, but never 'dumbed down', and we won't change your meaning or intent. We always stay on-brand, telling the story of your year, the way you want it told.
Our specialist annual report writers, editors and proofreaders follow our eight rules for plain English:
1. Consider your audience
2. Keep it simple
3. If you have to look-up a word's meaning, don't use it
4. Use the active voice
5. Don't use jargon if there's a plain-English equivalent
6. Get your punctuation right
7. Have one idea per sentence
8. If it's not crucial, delete it
The 7 advantages of having one supplier to design, write and project manage your annual report
Andrew Pegler Media has designed, written and project managed over 180+ annual reports. Our full 360° one-stop-shop service covers writing, editing and design. Having both content and design done by one supplier means one clean point of contact for you. Seamless communication between the writing and design elements results in a superior final product. Plus, there is no need to pay for a final proof of the ultimate document. We quality control your content along the way.
1. Better accountability
2. Overall visibility
3. Greater efficiency
4. Cost savings
5. Time savings
6. Quicker delivery
7. Greater efficiency
1. Better accountability
A single supplier, solely responsible for the entire process, cannot blame others for non-performance or delays.
Our 'buck-stops-here accountability' ensures effective and efficient delivery of your annual report.
2. Overall visibility
A single supplier who's responsible for the project from start to finish will be across its many moving parts.
APM will always know where processes and procedures are at, ensuring a much smoother process for aspects like:
Interviews
Stakeholder copy
Copy feedback
Design feedback
Communication between editorial and design wings, so each learns about changes quickly and can react accordingly
When copy will be delivered to design
Image selection
Version management
Flagging potential issues
3. Greater efficiency
Having a single point of contact for the entire annual report is more efficient. No need to juggle different service providers — a sole contact ensures all parties involved in the process understand each other's roles and responsibilities and are equipped to deal with unforeseen problems. You'll waste no time:
Dealing with issues arising from one party misinterpreting instructions
Briefing separate parties
Coordinating two parties with the inherent risk that presents for mistakes
Double administering and project managing
Trying to sort out administrative complications – for example, payments
Double meetings
Additionally, the design and writing can be done in parallel. We show you samples as we go along. We can even drop in copy as it's approved, so stakeholders can see their part of the report in its true design context and provide direct feedback. This gives you a longer lead time to gather stakeholder responses.
4. Cost savings
Being the sole supplier also provides APM with economies of scale – hence our ability to offer a more competitive price.
5. Time savings
APM's design wing knows it's getting quality written content and can address most questions to our content staff.
Less bother for you. And design can already be working while you make last minute tweaks to copy – delays in finalising what you want to say don't hold up 'the big handover day' between suppliers.
6. Quicker delivery
A single-source model means faster delivery. The same people in the same organisation working on the same product have instant communication on changes, requests and more – without compromising on quality.
We've done this many times before! Single-sourcing means a strong bond between the parties, resulting in a more productive, better working relationship.
7. Boosts brand image
A single provider will better protect your brand and reputation. Having all operations done under one umbrella, boosts the quality of work and guarantees uniform editorial style and design.
Case studies
Togethr Trustees Superannuation
APM wrote and designed all four annual reports for Togethr Trustees, a trustee for multiple profit-to-member funds, which manages $26 billion for 150,000+ members. The four funds were:
The funds operate in different sectors, so conveying this in the design of each annual report was imperative, as was individual branding, infographics, images and icons.
The brief was complex. Nonetheless, our team of designers tackled it with their usual creative responsiveness – sourcing images, and creating icons and infographics tailored to each brand.
The end product was four stand-alone annual reports that met, and exceeded, the client's expectations.
Geoscape Australia
APM wrote and designed Geoscape Australia's (GA) annual report, a self-funded public company owned by Australia's governments.
GA provides crucial spatial data to allow economic, social and environmental developments Australia wide that describes the addresses, land, buildings and transport networks across Australia's full land mass of 7.6 million km2.
APM plain English edited copy supplied from across the organisation.
This included a mix of internal stakeholder reports, press releases, existing communication. We also conducted interviews with GA's Chair. The resulting consistent, clear voice allowed a wider cross section of the community to understand and appreciate the importance of the organisation's work.
Design
As an organisation that's all about 'location' we chose design elements that reflected this important link. Pointers, pathways, mapping symbols and coordinate graphics were common themes we used throughout the Geoscape annual report. This approach was tied into the high-tech services they provide, and maintained consistency with their colour palette and branding.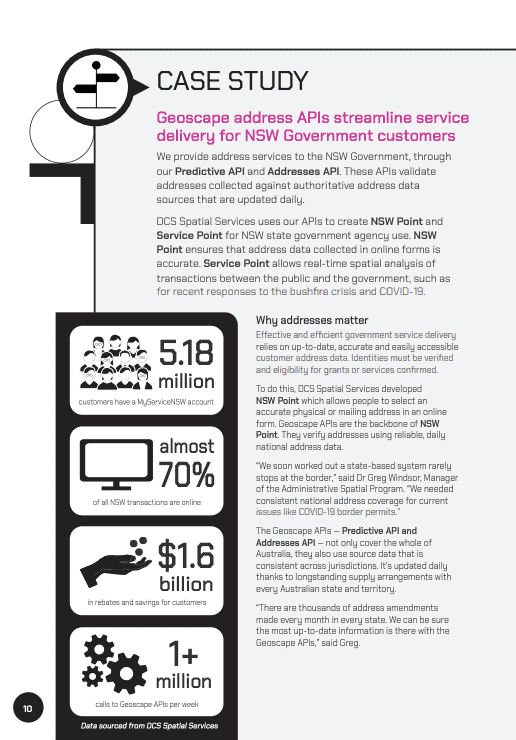 New South Wales Aboriginal Land Council (NSWALC)
For the past five years, NSWALC has commissioned APM to write and design its annual report.
The high level of professionalism we bring to writing, design and project management is what keeps NSWALC coming back.
Copywriting, editing and project management
APM organised the structure of the report and the information for each section to achieve a sequential flow of content. Both structural and plain-English copy editing were required on supplied text.
This included rationalising repetitive information to form section introductions and overviews while ensuring a consistent, clear voice throughout. We also created copy from primary sources and interviews, including with the Chair and the CEO.
Design
Each year, APM's design for NSWALC's annual report has sought to showcase Aboriginal culture and heritage. Colour palettes, typography and design elements were chosen to reflect the Aboriginal landscape and traditions. Using elements of Aboriginal art to create graphics and icons, and sourcing appropriate stock imagery, we've taken the design of the report from simply meeting statutory requirements to becoming the flagship of the organisation.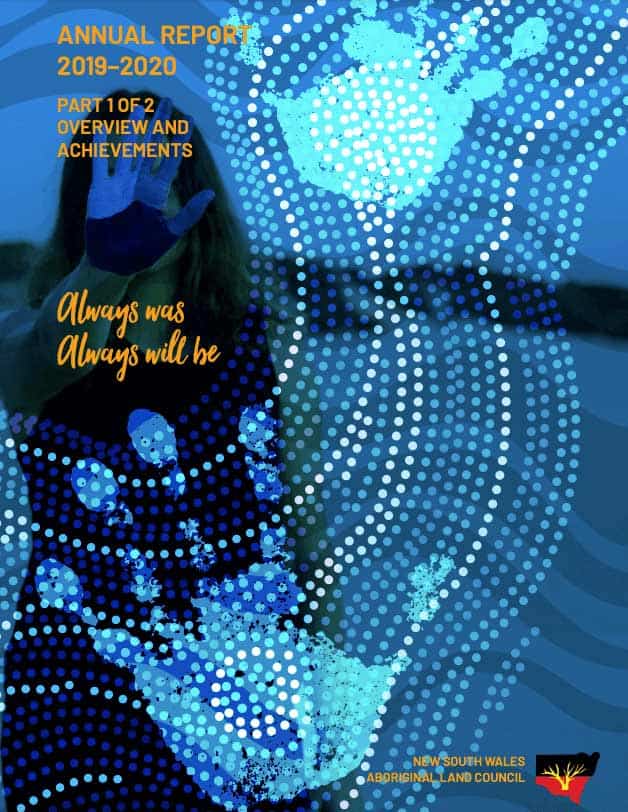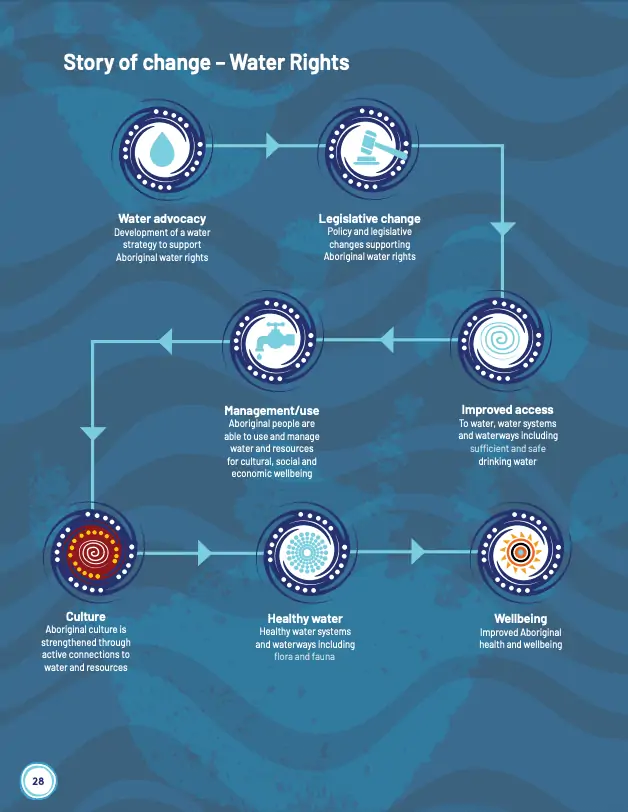 Happy Clients
Thanks for all your efforts in helping Togethr Trustees get four annual reports completed on time in a year that we all agree has been extremely challenging. I look forward to working with you and the team next year.

Awenna Williams, Head of Experience, Togethr Trustees